---
..::The Fall of Tower
20061010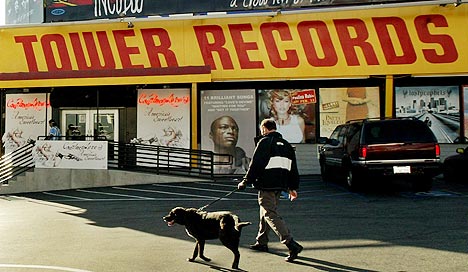 ---
So you're probably wondering what's up with the
Tower Record
s header? Well, they've announced bankruptcy, again. But, this time I think it's for real, as the La Jolla Village Square location has begun it's liquidation sale. You know what that means? We're gonna go broke this month buying all the design and graff mags.
Seriously, though, it's a sad thing to see because Tower's one of the best places to chill. Got nothing to do? Go read a magazine. Listen to some CD's. I still remember when we'd hop in the Federico's Bronco after school to make it down to Sports Arena for a free issue of URB. That was back in '92 when it was still on newsprint. And, I still have my portfolio from when I applied for the display artist position at La Jolla back in '96. I didn't get the job, but still....
I blame it on the bootleggers industry. Not really, though.
---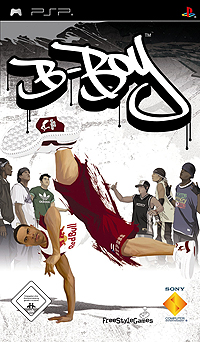 ---
I remember walking home from school with my friends one day when we ran into some guys holding a boombox and cardboard. One of the guys was like,"You know how to break?"
I turned on his blaster and busted a knee spin on his homie's chest. Yeah! That's what's up!
Nah. I didn't know how. I was terrified. But, then again, I was only in 4th grade.
Anyway, this one 6th grader walking with us goes, "Yeah." Then he busts a b-boy stance. The rest is a blur from there.
The point? I just got my copy of
B-Boy for PSP
yesterday. I thought it was gonna be lame, but nah. It's pretty fresh. I'm not disappointed.
So, for all you suckas without rhythm … you're shit out of luck at "The Jam." But, you should still cop this game. And when you're done playing, you can bust some throw-ups on
ME's Gettin' Up
and spit lyrics on
Get on Da Mic
.
I was joking about that last one. Word to Boogaloo Shrimp.
---
---
Just a funny IM conversation between me and Hektik.
---
..::Roadside TypoGraffiti
20060911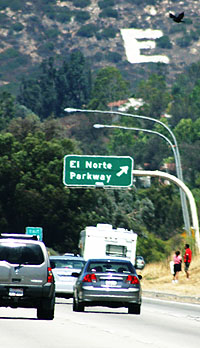 ---
A few weeks ago, we made a trip to Chino Hills. It's a pretty boring drive, but this time I wasn't driving. I took the opportunity to shoot some graff on the I-15.
I'll post it to our Flickr and get back with the linky link.
---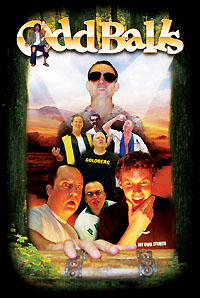 ---
You know the people you see hanging out on the islands at busy intersections? Yeah, the ones with funny signs like
"Ninjas Killed my Family."
What if they aren't needy? What if all the money they suckered you for went to a collective pool to fund a secret society where they live like
hustlers
kings/queens?
That's the idea behind
OddBalls
- a film by aspiring director and
San Diego Chargers
Equipment Manager, Kevin Duddy.
Screening TBA.
---
..::MILLION $ BUILDING?
20060911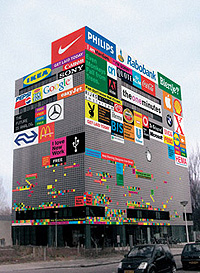 ---
Got this from
Kineda.com
. Wish I thought of this. Some
buster
genius students in Germany one-upped the
MillionDollar Homepage
and created the
Million Dollar Facade
. Instead of buying pixels. You buy tiles.
It's only a matter of time, but I'm curious to see how long before Space Invader hits it up. Don't let us down Space Invader. I mean, damn, man! Look at all those tiles!
It's kinda like what Luis said to RAMO in Beat Street.
"RAMO, we gotta!"


"SpaceInvader, you gotta!"
---
..::VAIO-LATION?
20060908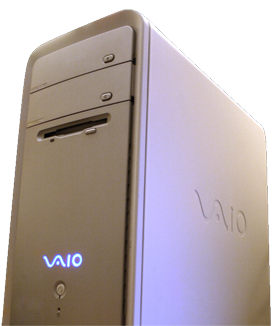 ---
When it comes to design, MACs get all the love.... Anyway, I gotta represent with the VAIO up top.
Almost all of my design is done on a PC, except when I'm at work. Then, it's G5 time. But, a G5 ain't gonna make you fresh.
Besides, when I wanna get my mix on, it's always on the PC. I haven't found a MAC program as good as
Sony Acid Pro
(formerly Sonic Foundry Acid). And, I don't think
Adobe Audition
is available for MAC.
---
..::Pimp my Ride
20060907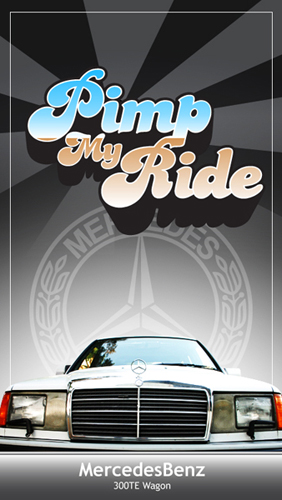 ---
Check the
Pimp My Ride
section. There's only one image pack on it, but it's available for PHOTOCHOPPING.
This is a design site, so it doesn't matter how artsy you make it. But, you better come correct.
If you don't know where to start, there's a tutorial and resources on
Photochop.net
.
Send Pimped ride to
pmr@robeast.com
---
..::Wake me up when...
20060905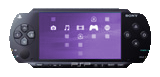 ---
It's September.
The PSP says time for Purple.
Whatever.
..::ROBEAST::..